By Desire Ninsiima & Viola Nabbale
Researchers across the world are scrambling to develop a corona virus vaccine and 170 candidates are being tracked by the World Health Organization.
Scientists are expressing confidence that effective vaccines will be developed, and much sooner than anyone could have hoped for when the pandemic first emerged, but hand-in-hand with the hopefulness is mounting concern that governments aren't spending enough to avoid a major shortfall in vaccine doses. Nor are they planning enough to anticipate logistical challenges.
Analysts estimate that so far governments have invested enough to provide around half the doses needed for a world population of nearly eight billion. Countries are racing to sign supply agreements with pharmaceutical companies, hedging their bets on which vaccines will successfully navigate clinical trials.
More than 170 countries are participating in negotiations overseen by WHO, and involving The Vaccine Alliance, a group founded by Bill and Melinda Gates, aimed at helping to develop and distribute equitably a vaccine.
The U.S. has declined to participate in the initiative, partly because it is led by WHO, which the Trump administration accuses of mishandling the outbreak in the first place.
Looking out for their own
But the U.S. isn't alone in being chary about the global initiative. Other countries, increasingly untrusting of each other, are scrambling to ensure their own populations do not miss out on any vaccines, despite their formal interest in talks about equitable distribution. The British government has been busy buying up as many doses it can of potential vaccines as they are being developed.
Last month, it announced it had secured at least 90 million doses of potential vaccine from overseas companies as it wagers on which one may prove successful, if a British one fails. Alok Sharma, the country's business secretary, said the government had to do "everything we can to ensure the British public get access to a safe and effective coronavirus vaccine as soon as possible." Like his counterparts in other countries, Sharma is afraid Britain will lose out unless positioned at the front of the line.
Britain in all has so far signed half-a-dozen deals, for a combined 340 million potential vaccine doses. "There will be a worldwide frenzy for vaccines, much as at the start of the pandemic there was an aggressive rush for PPE gear and testing reagents," a senior British official told VOA. "Our voters won't forgive us, if we fail to ensure vaccine supplies they need," he added.
Britain is not the only one angling for vaccine supplies, and the fear of losing out is understandable, say analysts and vaccine experts, especially when there will inevitably be a shortfall because of lack of manufacturing capacity.
Meanwhile Uganda is set to start human trials of the Covid-19 vaccine starting November as the country continues the fight against the pandemic, Ministry of Health officials have said.
According to the officials, the vaccine called, Self Replicating RNA, which has been made through a research conducted through a partnership between Uganda Virus Research Institute (UVRI) and Imperial College in the UK, will undergo three different steps before it is recommended for general public use.
Dr Diana Atwine, the permanent secretary in the Ministry of Health, said the people involved in the research are in the final stages of bringing the vaccine to Uganda for further trials before it is adopted by the World Health Organisation (WHO).
"I am waiting for a paper from UVRI and other research bodies in the country that have been put in place to give me the latest details, but what I know is by November, the vaccine shall be in the country ready for testing," Dr Atwine said in an interview with a local newspaper at the weekend.
Recently, President Museveni formed the Presidential Scientific Initiative on Epidemics (PRESIDE) headed by Dr Monica Musenero to bolster research on Covid-19.
How trial will be conducted.
Dr Musenero said that the first trial will be conducted on 10 Ugandans to see how they respond to the vaccine and its possible side effects on the human body. If it is all successful, the other stage of the trial will be done on about 100 to 200 people before the final stage of a random clinical trial of between 1,000 and 3,000 people.
"There are many steps to carry out this kind of research and possible approval of a vaccine. The vaccine has undergone the animal trial and now the next phase is a human trial for which volunteers will have to offer themselves to be tested," she explained. "This will be in three phases and the final phase is expected to take place in June next year. If the trial is done successfully, we can roll on the mass use by end of June next year," Dr Musenero added.
Funding
She revealed yesterday that for the vaccine project, Uganda will contribute about Shs800m while the rest, which is the biggest part of the budget, is being met by the UK university.
"On our part, we shall be buying some equipment, which will cost Shs617m and the operation costs of Shs195m. The rest of the project has already been funded by the university in charge," Dr Musenero said.
Other local bodies working on different research projects for Covid-19 include; UVRI led by Prof Pontiano Kalebu, Makerere University Medical School department led by Dr Misaki Wayengera and Makerere University School of Public Health headed by Prof William Bazeyo.
Dr Wayengera, who is heading the project of developing the rapid test kits, said his entire budget is being funded by government, the French Embassy, the Uganda Bankers Association, and other individuals.
"There are problems of funding these projects but there is concerted effort by government and other private institutions. If all goes well, we shall have a product at least by March next year," he said.
As of yesterday, Uganda had recorded 7,530 Covid-19 cases and 73 deaths. Recoveries stand at 3,647.
Approval process
Dr Musenero said when a vaccine/drug is developed, it has to go through the initial animal trial where different species close to humans are introduced to it and observed on how they react.
The vaccine is then taken to the laboratory for the human trial, which is supposed to be three different stages, before it is taken to the National Drug Authority (NDA) for certification. NDA then recommends the medicine to WHO, which also assesses it before it is taken to the factory for manufacture.
Russia's Coronavirus Vaccine Delivers Immunity After First Dose – Developer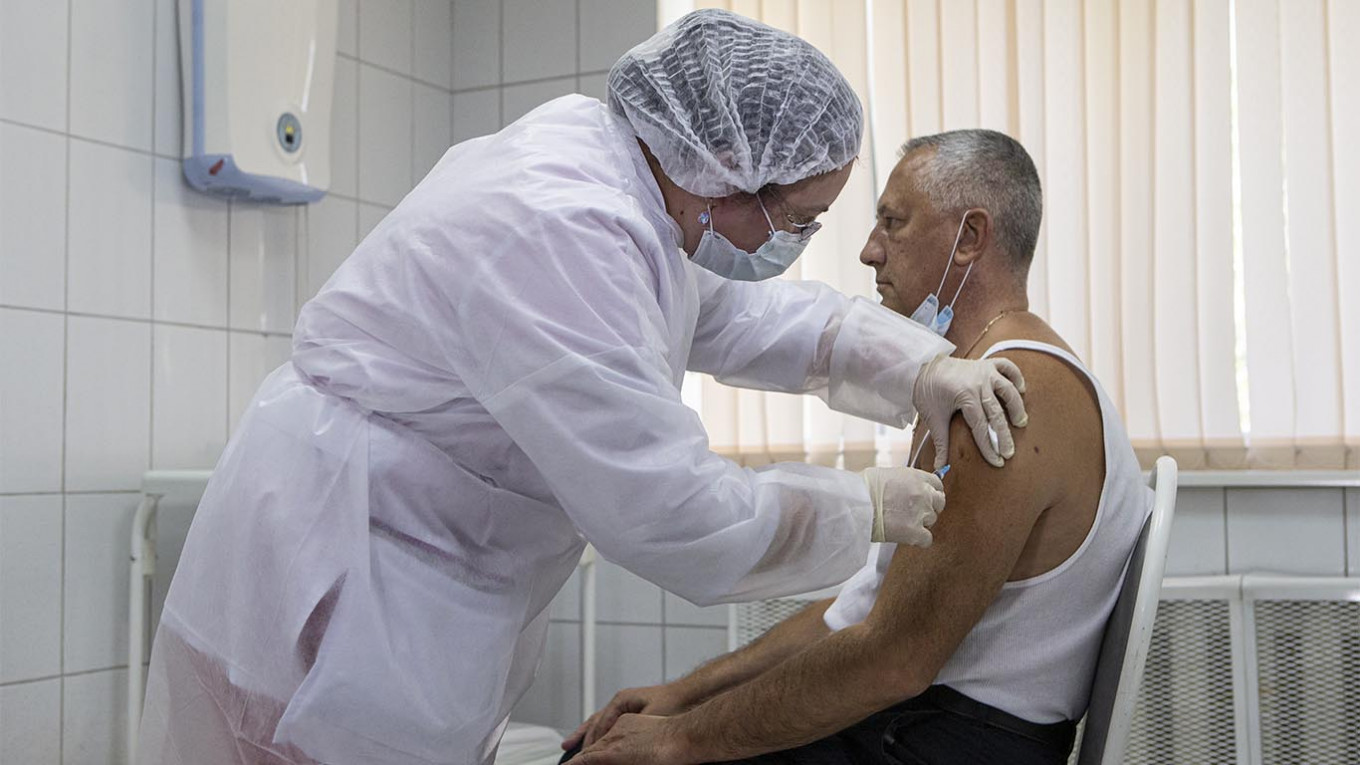 Russia's Sputnik V corona virus vaccine confers immunity among some recipients after the first shot, its developer has said in an interview with state media Friday.
Sputnik V is an adenovirus-based vector vaccine that is administered in two doses. President Vladimir Putin last month hailed it as the world's first registered corona virus vaccine, though large-scale trials to prove its safety and effectiveness have only recently started in Moscow and small batches are being distributed across Russian regions.
Alexander Gintsburg, the head of Moscow's state-run Gamaleya research institute that developed Sputnik V, told the RIA Novosti news agency that developing immunity for Covid-19 depends on individual reactions to both the vaccine and the infection.
"For some, the protective level of antibodies is produced after the first vaccination and they need the second one to extend that protection. They will likely be protected two weeks after the first vaccination," he said.
Gintsburg noted that while no volunteers have become infected between the two shots, he did not rule out that risk.
"If there is [an infection between the first and second shots], it will occur in a weaker form," he said.
There are "no grounds" for vaccine recipients to self-isolate or limit contacts, Gintsburg added.
Gintsburg, 68, has said he received the adenoviral vector-based vaccine himself. Previously, the microbiologist noted that booster shots for Sputnik V would be required every two years.
Russia has seen a growing number of daily Covid-19 infections in September following two months of new cases falling below 5,000. On Friday, Russia confirmed more than 7,000 new infections for the first time since late June.
Officials maintain that Russia is still battling its first wave of the virus, not the second.
Overall, the country has the world's fourth-highest number of infections at 1.13 million.
Putin Vaunts Russian Coronavirus Vaccine at UN
President Vladimir Putin in a speech at the United Nations on Tuesday boasted of Russia's creation of the world's first coronavirus vaccine, though it has not completed large-scale clinical trials.
Putin in a video address to the General Assembly said that Russia was open to partnership with other countries over "the first vaccine in the world, Sputnik V."
"I repeat again that we are absolutely open and disposed for partnership," Putin said.
The Sputnik V vaccine was developed by Moscow's Gamaleya research center, and Russia announced in August that it was the world's first registered vaccine.
While the vaccine has shown promising results in early trials, Russia has not yet completed the final phase of clinical testing, in which large numbers of people receive either the vaccine or a placebo.
Nevertheless Russia has already vaccinated high-profile officials including the Defense Ministry Sergei Shoigu and Moscow Mayor Sergei Sobyanin. Putin has said that one of his daughters was vaccinated, suffering only a mild reaction.
The Russian Direct Investment Fund that has supported the vaccine's development said last month that 20 countries had pre-ordered supplies.
Putin urged an online conference to be held in the near future with other countries "interested in cooperating on creating a vaccine against coronavirus."
"We are ready to share our experience," Putin said, offering to supply other countries with "a Russian vaccine that has shown its reliability, safety and effectiveness.
He also vaunted Russia's speed in "developing a line of test systems and medications for diagnosing and treating coronavirus."
"Our country has played an active role in global and regional efforts to fight Covid-19 and gives help to the countries that have suffered the most," he said.
He cited cases of the coronavirus among UN staff and offered to give them the Sputnik V vaccine.
"Russia is ready to give the UN staff all the necessary professional help: in particular we propose offering our vaccine for voluntary vaccination of staff of the UN and its subsidiaries," Putin said.