Executive Remarks during the signing ceremony of the MOU between Uganda Tourism Board (UTB) and KCCA
By Barbara Faith Namagembe -Updated 1021 EAT- Tuesday 1st December 2021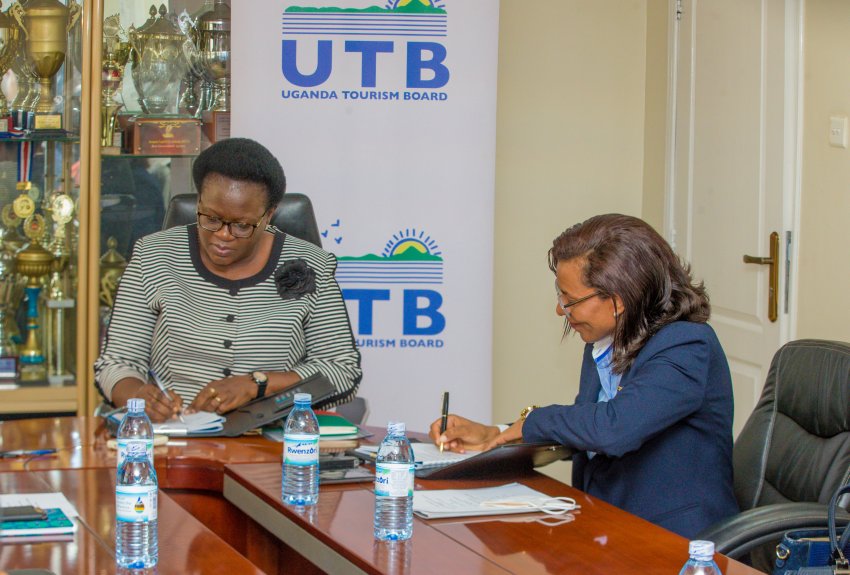 Kampala Capital City Authority – KCCA on Tuesday signed a Memorandum of Understanding with Uganda Tourism Board- UTB to promote Kampala as a tourism destination and a gateway to Uganda's premium tourism products.
Following the ceremony at City Hall Board room, the Executive Director of KCCA Mrs Dorothy Kisaka made remarks;

The Chief Executive officer, Uganda Tourism Board,
The Director Education and Social Services
The Ag. Director Legal Affairs,
Members of the Fourth Estate,
Ladies and Gentlemen,
Good afternoon,
I welcome you all to KCCA, I am delighted to be here today at the signing of this agreement to formalize and deepen the partnership between KCCA and Uganda Tourism Board. The two institutions have had a long standing working relationship at common strategic levels.
In the past UTB has collaborated with KCCA in the areas of; quality assurance in the hospitality subsector, hosting of events, tourism capacity building and general tourism marketing.
Kampala is the face of this country and as a City; it has potential to attract visitors. This potential stems from its own natural form, sense of place, sense of history, spirit and other ethos.
As City administrators, we are ambitious to delivering a Vibrant, Attractive and Sustainable City to Ugandans and visitors.
KCCA alone cannot achieve an admirable, attractive and hospitable City unless we work with stakeholders with common interest like UTB.
The focus of this MoU and collaboration is to build synergy between the two institutions. Specifically to;
To promote Kampala as a tourism destination and a gateway to Uganda's premium tourism products.
To plan for, coordinate and execute joint inspections of tourism enterprises in Kampala for quality assurance and standard enforcement
Develop tourism products to increase on the tourism product offer within the City precinct
Organise and support social events that highlight Kampala and Uganda's historical and cultural diversity.
To compile and disseminate tourism information in promotion of Kampala City and Uganda as a preferred tourism destination.
To enhance Tourism education/awareness and conservation in the public and private schools in Kampala City.
To build capacity for tourism human resource in tourism enterprises within the City.
Tourism is a major sector and foreign exchange earner for Uganda; Kampala hosts most of the major tourism infrastructure (hotels and events facilities) collaborating with UTB is one way of achieving National Development Goals and empowering our private sector.
The signing of this Memorandum of Understanding marks the consolidation of a true partnership of our institutions to take the tourism and hospitality sector to another level.
Thank you.