HICGI News Agency – Updated at 0829 EAT on Tuesday 17th May 2022
Anti-government protesters outside police headquarters in Colombo, Sri Lanka, on May 16.
Colombo, Sri LankaSri Lanka's new prime minister said on Monday the crisis-hit nation was down to its last day of petrol, as the country's power minister told citizens not to join the lengthy fuel queues that have galvanized weeks of anti-government protests.Ranil Wickremesinghe, appointed prime minister on Thursday, said in an address to the nation the country urgently needed $75 million in foreign exchange to pay for essential imports."At the moment, we only have petrol stocks for a single day. The next couple of months will be the most difficult ones of our lives," he said."We must prepare ourselves to make some sacrifices and face the challenges of this period."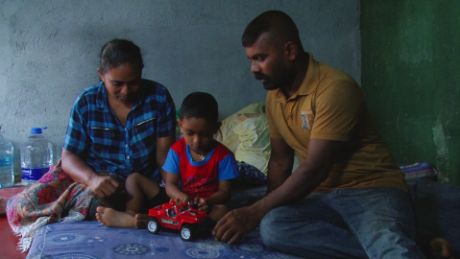 Surgery by mobile phone light and reusing catheters: Sri Lanka's economic woes push hospitals to the brink of disaster.
Two shipments of petrol and two shipments of diesel using an Indian credit line could provide relief in the next few days, he added — but the country is also facing a shortage of 14 essential medicines.Sri Lanka currently faces a budget deficit of $6.8 billion (2.4 trillion Sri Lankan rupees), or 13% of their GDP.The crisis led to widespread protests against President Gotabaya Rajapaksa and his family, culminating in the resignation of his elder brother Mahinda as prime minister last week after fighting between government supporters and protesters killed nine people and wounded 300.In response to the crisis, Wickremesignhe said the country will print more money and propose to privatize Sri Lanka's flagship airline to keep the economy afloat — though he conceded that inflation may worsen in the short term.In his address on Thursday, he vowed to "build a nation without queues for kerosene, gas, and fuel … a nation with plentiful resources."
Desperate bid
The president replaced Mahinda Rajapaksa with Wickremesinghe, an opposition parliamentarian who has held the post five times previously, in a desperate bid to placate protesters.But the protesters have said they will keep up their campaign as long as Gotabaya Rajapaksa remains president. They have also labelled Wickremesinghe a stooge and criticized his appointment of four cabinet ministers, all members of the political party run by the Rajapaksa brothers.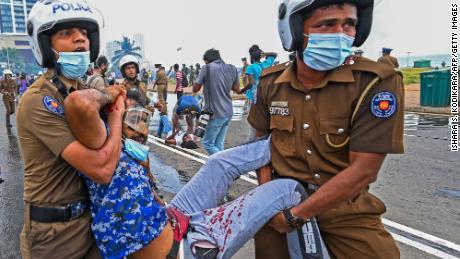 Sri Lanka's prime minister resigns amid protests over economic crisis Wickremesin he said on Monday he took the role for the good of the country.In Colombo, the commercial capital, long queues of auto rickshaws, the most popular means of transport in the city, lined up at gas stations in a fruitless wait for fuel."I have been in the queue for more than six hours," said one driver, Mohammad Ali. "We spend almost six to seven hours in the line just to get petrol."Another driver, Mohammad Naushad, said the gas station he was waiting at had run out of fuel."We've been here since 7 to 8 a.m. in the morning and it is still not clear if they will have fuel or not," he said. "When will it come, no one knows. Is there any point in our waiting here, we also don't know."Hit hard by the Covid-19 pandemic, rising oil prices and populist tax cuts by the Rajapaksas, the strategic Indian Ocean island nation is in the midst of a crisis unparalleled since its independence in 1948.A chronic foreign exchange shortage has led to rampant inflation and shortages of medicine, fuel and other essentials, bringing thousands out on the streets in protest.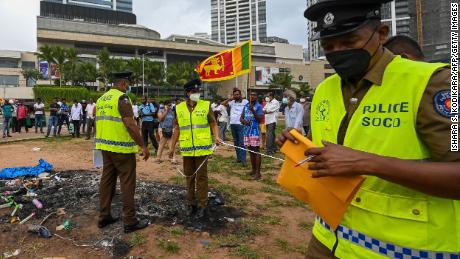 Police at the scene of clashes between government supporters and demonstrators in Colombo on May 10.
The military had to rescue the country's outgoing Prime Minister Mahinda Rajapaksa in a pre-dawn operation on Tuesday, hours after he resigned following clashes between pro- and anti-government protesters. The military were called after protesters twice tried to breach the Prime Minister's Temple Trees private residence compound overnight, a senior security source told reporters .
Rajapaksa's resignation came after live television footage on Monday showed government supporters, armed with sticks, beating protesters at several locations across the capital, and tearing down and burning their tents. Dozens of homes were torched across the country amid the violence, according to witnesses. Armed troops were deployed to disperse the protesters, according to CNN's team on the ground, while video footage showed police firing tear gas and water cannons.
A nationwide curfew has been extended until 7 a.m. local time Thursday (9.30 p.m. ET Wednesday). However, it remains unclear if the curfew and the Prime Minister's resignation will be enough to keep a lid on the increasingly volatile situation in the country. Many protesters say their ultimate aim is to force President Gotabaya Rajapaksa — the Prime Minister's brother — to step down, something he has so far shown no sign of doing.
The President on Tuesday urged citizens to "remain calm and stop the violence and acts of revenge against citizens, irrespective of political affiliations.""All efforts will be made to restore political stability through consensus, within the constitutional mandate and to resolve economic crisis," the President tweeted.
In a statement Tuesday, the European Union and its 27 Member States condemned the "recent vicious attack against peaceful protesters" and called on authorities to investigate.
Anti-government demonstrators protest near the President's office in Colombo on May 10. "The EU deplores the loss of life, including of a Member of Parliament, and the high number of injured people," the statement said. "The EU recalls the importance to safeguard the democratic rights of all citizens, and to focus on solutions that will address the significant challenges currently faced by the Sri Lankans." Sri Lanka's neighbor, India, has also weighed in. "As a close neighbor of Sri Lanka, with historical ties, India is fully supportive of its democracy, stability and economic recovery," a spokesperson from the Ministry of External Affairs said Tuesday. "In keeping with our Neighborhood First policy, India has extended this year alone support worth over $3.5 billion to the people of Sri Lanka for helping them overcome their current difficulties. India will always be guided by the best interests of the people of Sri Lanka expressed through democratic processes."