By Merlyn Thomas
At least 60 workers rallied outside Al Bandary International Group's Doha offices on 14 August – some reportedly had not been paid for seven months.

A number of protesters were detained and some were deported, although it's not known how many.

The government said those who were deported had "breached security laws".

Since Qatar was awarded the World Cup in 2010 – sparking a wave of construction of stadiums and infrastructure across the country – its treatment of migrant workers has been questioned.
The Al Bandary International Group company is predominantly a construction and engineering company.
It is not known whether the workers were involved in the World Cup preparations, and the organising committee declined to comment.
But in a statement to the BBC, the Qatari government confirmed that a number of workers who took part in the rare protest in Doha had been detained for breaching public security laws.
It is understood that a minority of those "who failed to remain peaceful" face deportation, and rights groups say some have already left the country.
The Qatari government said it would pay all delayed salaries and benefits to the affected workers.
The government said the Al Bandary group was already under investigation for not paying its workers, and further action is being taken after a deadline to settle payments had been missed.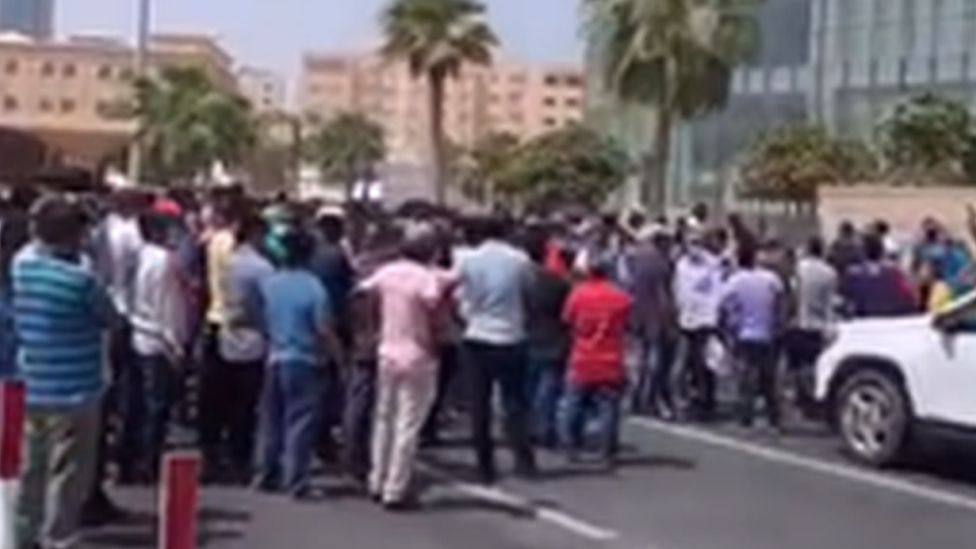 The workers' case was highlighted by Equidem, a human rights organisation specialising in labour rights.
Its head, Mustafa Qadri, told the BBC: "Have we all been duped by Qatar and FIFA?
"They've been telling us there's no moral quandary about holding the World Cup in Qatar, in a country which still punishes people for speaking their minds."
The workers who protested were from Bangladesh, India, Nepal, Egypt and the Philippines, according to Mr Qadri.
Mr Qadri – who has been in touch with several of workers – said some police officers told the protesters that, if they can strike in hot weather, they can sleep without air conditioning, too.
"Can you imagine how desperate the workers must have been to protest in 42 degrees? They aren't political actors, they just want to be paid for their labour," Mr Qadri added.
Earlier this year, BBC Arabic reported allegations that Qatar is under-reporting the number of migrant workers who have died of heat stroke.
FIFA, the organisation for international football, was earlier this year urged to set up a compensation fund of at least $440m (£350m) for migrant workers who have suffered "human rights abuses"
A spokesperson for the government's World Cup organising committee declined to comment on the Al Bandary protest. The Al Bandary group did not respond to a request for comment.
The Qatari government said 96% of eligible workers in Qatar are covered by a wage protection system, which obliges employers to transfer all wages through Qatari banks within seven days of their due date, and that gaps in the system were being identified.
Invest or Donate towards HICGI New Agency Global Media Establishment – Watch video here

https://youtu.be/89SkM6cAKkw