By E K Benj @kivumbi & Joan Banura Updated at 1724 EAT on Wednesday 08th Dec 2021
Male Ben from Directorate of Revenue at KCCA speaks to HICGI News Agency on Kampala Capital City Authority- KCCA at Uganda E- Government Expo on Friday 3rd Dec 2021.
Voting ends tonight for Uganda Government Excellency Awards organised by The National Information Technology Authority-Uganda (NITA-U) an autonomous statutory body established under the NITA-U Act 2009, to coordinate and regulate Information Technology services in Uganda.
NITA-U is under the general supervision of the Ministry of ICT and National Guidance.
In an interview earlier with a local media, NITA Boss Dr Mugasa Hatwib said "The E-Government exhibition will help to facilitate access to online services for citizens and encourage people from all walks to life to come and use the existing e-services."
Kampala Capital City Authority- KCCA wants to take on this year's Excellency Award according to sources to HICGI News Agency.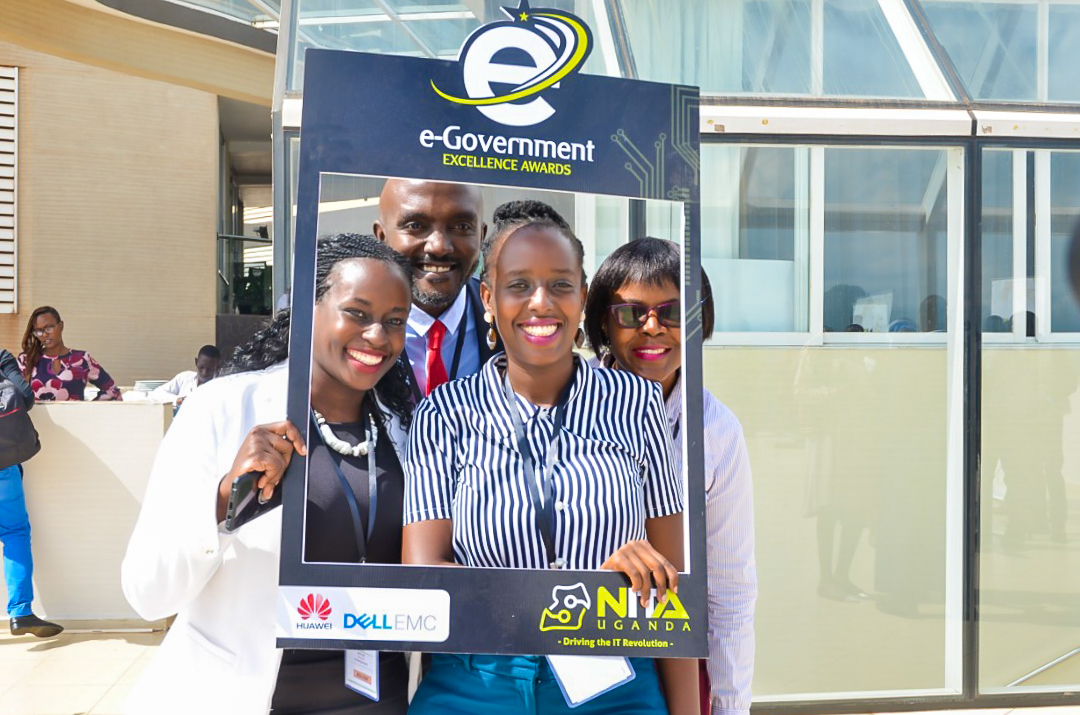 NITA announced its second edition of the e-Government Excellence Awards under the theme, "Bold digital Government, embracing disruptive technologies" — to recognize Government MDAs that have played a remarkable role in availing online government service (e-Services) to the public.
The awards are in seven categories; CIO of the Year, Agency of the Year, e-Service of the Year, Citizen's Choice of the Year, BPO/ITES Company of the Year, Private Sector Company of the Year, and ICT Journalist of the Year. NITA-Uganda called on interested participants to submit their expressions of interest to info@nita.go.ug before November 22nd, 2021.
"We believe these awards will enable sharing of experiences amongst various government entities so as to nurture a common vision of innovative administration, access to information, and enhanced service delivery to citizens," Collin Babirukamu Mugasha, the Director of E-Government Services at NITA Uganda, said while addressing journalists at Uganda Media Center.
Babirukamu added that the awards will provide a platform to recognize and applaud outstanding Government Ministries, Departments, and Agencies that have championed e-service delivery.
The awards are in line with the third National Development Plan Goal that seeks to improve Public Sector Response to the needs of citizens and the Public Sector — and they are also in line with the NRM Manifesto 2021/26 that seeks to Digitize Service delivery processes across all government entities through the adoption of new ways of delivering services.
This year's awards will commenced with the e-Government Masterclass on December 1st and 2nd, 2021, December 3rd, 2021 held an e-Government Expo and conclude with the e-Government Excellence Award and Gala that will be held on December 10th, 2021
NITA Uganda plans to hold an e-Government campaign culminating in a final e-Government Excellence Gala to highlight the advancements in e-Government services in Uganda. The main objective of the campaign is to share experiences with various government entities from across the country, who share a vision of innovative administration through the application of e-Government.
As one of the first large-scale events post-pandemic, the e-Government excellence program brings together Governments, innovators, entrepreneurs, private sector players, scholars, and ICT companies to reflect on the current and future state of ICT.
NITA Uganda says this year's event is a success same as last year which brought together over 9 million virtual views, 10 million reach, 5,000 physical participants, 150 Government CIOs, and 40 exhibitors. The ceremony that was held at the Speke Resort Munyonyo was graced by former Prime Minister Rt. Hon. Ruhakana Rugunda as the Chief Guest, former Minister of ICT and National Guidance; Hon. Frank Tumwebaze, former State Minister for Investment and Privatization; Hon. Evelyne Anite, World Bank country manager for Uganda; Antony Thompson, among others.
While giving his speech, Rugunda said the government MDAs that were nominated for the awards, were the ones that have been outstanding in digitizing services and bringing these services online. He also noted that the public should be aware of the role ICT plays in transforming their lives. He further stated that the National Resistance Movement (NRM) government recognizes ICT as one of the key drivers of efficiency and effectiveness in service delivery, production processes, and communication.
The winners of the 2019 e-Government Excellence Awards were;
| | |
| --- | --- |
| Nominees | e-Government Excellence Award |
| Martin Sekajja | Chief Information Officer |
| Makerere University | Outstanding Web-portal Award: Connected |
| Uganda National Bureau of Standard | Outstanding Web-portal Award: Interactive |
| Office of the Director Public Prosecution | Outstanding Web-portal Award: Informational |
| Mbarara District Local Government | Outstanding Web-portal Award: Local Government |
| Uganda National Roads Authority (PDU e-Transit Ladder) | Outstanding Sector e-Service Award: Economic, Infrastructure and Competitiveness sector |
| Uganda Revenue Authority (eBIZ) | Outstanding Sector e-Service Award: Tourism and Trade sector |
| Uganda National Examinations Board (e-Registration) | Outstanding Sector e-Service Award: The education sector |
| National Medical Store (Smart Care) | Outstanding Sector e-Service Award: The health sector |
| Ministry of Gender, Labour, and Social Development (External Employment Information System) | Outstanding Sector e-Service Award: Human sector |
| Ministry of Finance, Planning and Economic Development (Integrated Financial Management System) | Outstanding Sector e-Service Award: Accountability and Governance sector |
| Ministry of Local Government (ELogRev) | Outstanding Sector e-Service Award: Public Administrations and Management sector |
| Uganda Registration Services Bureau (Business Registration system) | Outstanding Sector e-Service Award: Justice Law and Order sector |
| Uganda Revenue Authority | Best Exhibitor at e-Government Expo |
| National Social Security Fund | Government Entity of the Year |
| Uganda Revenue Authority (eTax) | Citizen Choice |
HICGI News Agency will be giving you updates about the winner of this year's Government Excellency Award.