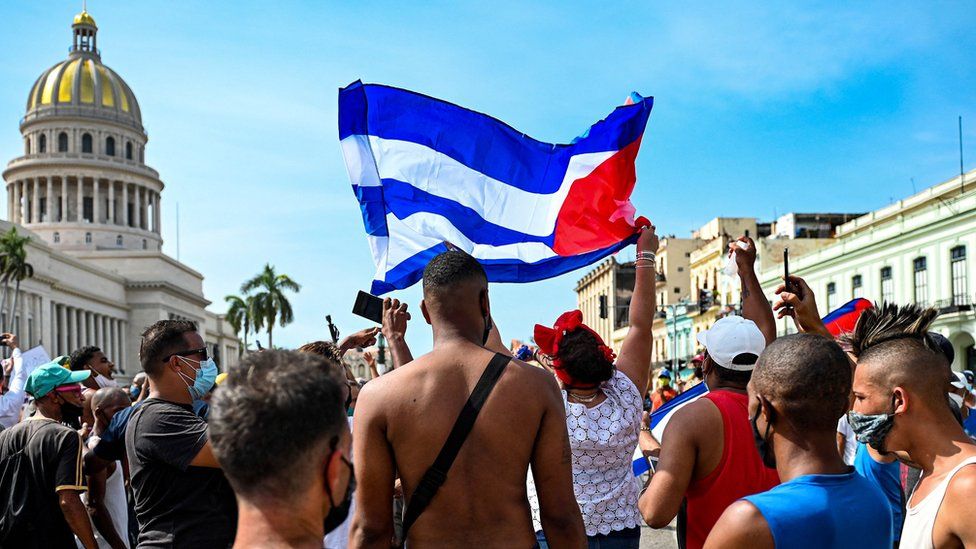 More than 700 people who took part in anti -government protests last year have been charged with crimes including sedition, vandalism, theft and public disorder. Says the Cuba officials.
Published by Faith Barbara Namagembe at 0330 EAT on Tuesday 26th January 2022
The public prosecutor's office said 172 people had already been tried and convicted, without giving details.
Families and activists have criticised the trials as unfair, and say the sentences are disproportionate.
Hundreds of people were arrested after the protests, the largest in decades.
Thousands demonstrated across the Communist-run island last July to voice anger over food and medicine shortages, price increases and the government's handling of the pandemic.
The statement by the public prosecutor's officeis the first official confirmation of the trials. In total, 710 people faced charges, it said, with most of them being held in detention as they await the trials.
The accused include 55 people aged 16-18, as people in Cuba can be prosecuted as adults from the age of 16.
The update came after a number of complaints by families and activists in recent weeks about the lack of transparency of the mass trials and the lengthy prison terms being given.
From July 2021: thousands join rare anti-government protests in Cuba
Justicia 11J, a human rights group, says penalties for dozens already sentenced have ranged from four to 30 years in jail, including for those accused of sedition, or the act of supporting rebellion against the authorities.
Luis Aguilar said his 21-year-old son, Walnier Luis, had been sentenced to 23 years in jail accused of sedition. "We're devastated," And our hands and feet are tied because there is no-one we can turn to".
The prosecutor's office said those accusations were "manipulations of public opinion", and that it had "verified compliance with the rights and constitutional guarantees of due process" under Cuban law.
"The right to defence was guaranteed, lawyers presented evidence and had access to the case files," the statement said, adding that sedition charges related "to the level of violence demonstrated".
Unauthorised public gatherings are illegal in Cuba and protests are rare. The demonstrations were largely peaceful although some people targeted police vehicles and looted some state-owned shops.
Cuba blames US sanctions for the problems that sparked the protests, and previously alleged that the demonstrations had been financed and instigated by US-based groups.
On Twitter, the US embassy in Havana criticised the "disproportionate sentences against peaceful and innocent youth", saying: "They [Cuban authorities] cannot crush the people's demands for a better future."